What's On and What to do in Greater Springfield
There is always something to do in Greater Springfield and the wider Brisbane region with more and more fantastic participation and spectator events for Queenslanders of all ages to enjoy throughout the year, including community events, athletic competitions, movie nights and delicious food offerings, read on to find out What's on in the near future (subject to Covid-19 restrictions).
apply.

Don't Miss Tuesday Trivia at Orion Hotel 7pm to 10:00pmGold Coin entry fee

Catch a Dive in Movie at Orion Lagoon, Robelle Domain
Celebrate Summer at Orion with a dive-in movie!
Splash to your hearts content as you enjoy a family film on the big screen.
Movie will start from 7pm. Movie details announced soon
Saturday, 16 January 2021.
Movie will start from 7pm. Movie details announced soon.
*Please note Orion lagoon does not allow the use of floating pool toys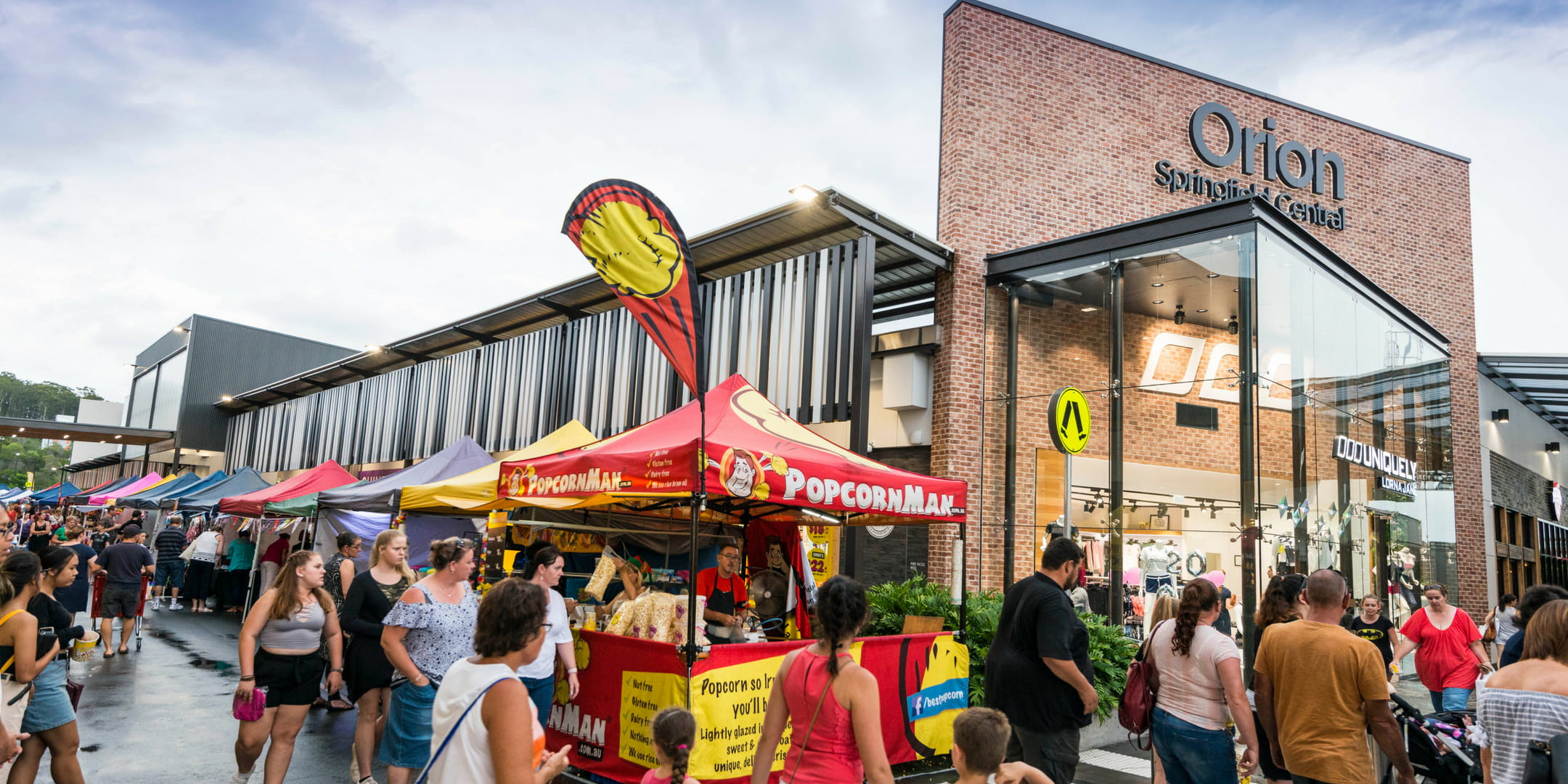 Markets on Main Street, Orion Springfield Central
Sunday Sunday 17th January 2021
9:00am to 4:00pm
Monthly market stalls and food trucks
Come along to our monthly Markets On Main Street and explore a range of local crafts, food and more!
Enjoy a date night or family outing at Event Cinemas, Orion Springfield Central
View the latest releases

Springfield Markets Robelle Domain Parklands
1st and third Sunday each Month
Introducing Orion Unplugged
Live Music at Orion, Supporting the local arts & entertainment industry, Orion unplugged features local musicians in various locations in-centre.
Show your support by donating or following and sharing their talents on social media.
School Holiday Tennis Camps
Baseline Tennis Coaching have announced their December/January school holiday tennis program.
Take your pick from half day and full day options that include fruit (morning), an afternoon sausage sizzle and midday
movie. Places are limited.
When: 14 – 18 December 2020, 11 – 15 January,
18 – 22 January
Time: Half day 9am – 12pm or full day 9am – 3pm
Where: Tennis Centre, Sportstar Drive, Springfield
Central Sports Complex
Cost: $40 half / $60 full day
Contact: To book, email admin@bltc.com.au
Sunday Yoga
Combined hatha yoga asanas, pranayama and yoga
nidra to rejuvenate the body and calm the mind.
When: Sundays 8am – 9.15am
Where: Vedanta Centre, 96 Vedanta Drive address: behind 2 Poppy Crescent), Springfield Lakes
Cost: $10/session
Contact: Sumathy 0431 959 821
Join the HYHQ team for weeknight cardio and fitness programs in an outdoor gym space with social
distancing and good company.
1:1 personal training available (contact for prices).
When: Weeknights 5.30pm and 6.30pm
Where: 84-90 Russell Luhrs Way (Display Village Green)
Cost: Casual pass $10/session or $30/week unlimited
Contact: Sam 0420 232 170
Fun, flexible, high-energy workout that feels like a party
on the tennis court.
When: Tuesday nights 7pm – 8pm
Where: Tennis Centre, Sportstar Drive, Springfield
Central Sports Complex
Cost: $17/session
Contact: David 0450 622 307
COMING UP IN 2021 Springfield Central Tennis Complex Community Open Day
Come along and celebrate the opening of the Tennis Centre at Springfield Central Sports Complex.
Try your hand at a variety of free activities and meet local stars and world ranking local players.
When: Saturday 23 January 2021 from 9am – 2pm
Where: Tennis Centre, Sportstar Drive, Springfield
Central Sports Complex
Cost: Free
www.facebook.com/BaseLineTennisCoaching
Free Active and Healthy programs
When: Weekly starting 27 January 2021 (excluding school holidays)
www.ipswich.qld.gov.au/live/healthy_lifestyle/activeprograms
Springfield Lakes Netball Club Open Day
Meet and greet open day. Come try your skills and meet
other players.
When: Saturday 23 & 30 January 8am – 12pm
Where: Netball courts, Sportstar Drive, Springfield
Central Sports Complex
Contact: springlakesnc@hotmail.com
Scouts Community Come and Try day
Fun and free activities including a climbing wall, damper making, stretcher making and races for the
whole family to try their hand at scouting. More info to come!
When: Date TBA – March 2021
Contact: Tony Langler
0438 304 167
As part of University of Queensland's Cane Toad Challenge, Springfield Lakes Nature Care Group is once again hosting monthly cane toad catching nights. Participants are taught the five key criteria that distinguish a native frog from a cane toad to ensure native frogs are not mistakenly caught.
When: First Friday of each month, commencing Friday 2 October 2020 from 7pm – 8.30pm
Where: Spring Lake Park, barbecue near pontoon
https://www.facebook.com/SpringfieldLakesNatureCare
Jacaranda Jam Choir
Weekly singing and ukelele group welcomes new members (all ages) to join their in-person rehearsals.
When: Tuesdays 10am – 12pm during school terms
Where: 2021 venue TBA
Contact: Angela 0411 460 337
Join the online Facebook community for the latest community news.
www.facebook.com/myspringfieldlakes
Ready to get the body moving?
These health and wellness retailers are on hand to assist you.
12RNDS Fitness
F45 Training
Prestige Dance Centre
Revive Yoga & Wellness Centre
Springfield Health & Fitness
Peter McMahon's Swim Factory
Find out specific opening dates and guidelines for each provider here: https://bit.ly/3eM8ky1
---
Regular Events in Greater Springfield
Due to Covid-19 Please check with individual event providers regarding availability and whether these programmes are currently running .

Springfield Markets at Robelle Domain Parklands
1st and 3rd Sunday of the Month from 8am to 2pm Stalls, Entertainment in beautiful Robelle Domain near the Lagoon
Where: 155 Southern Cross Circuit, Springfield Central
Website: https://www.facebook.com/events/1575661279215542/